Wielkie wydarzenie muzyczne w Wielkiej Brytanii. Po raz kolejny, po wielkim sukcesie ostatniej trasy koncertowej kultowy polski zespół COMA powraca do UK. To będzie wielkie muzyczne show, dedykowane wyłącznie znawcom i pasjonatom dobrych dźwięków.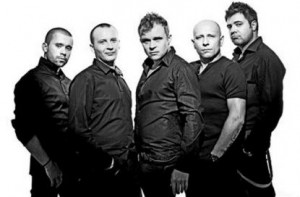 Po bardzo udanej ubiegłorocznej trasie koncertowej w Wielkiej Brytanii, COMA wraca do UK.  Tym razem na niezwykły Rock Tour z nową płytą zespół zaprasza w cztery miejsca w północno-wschodniej Anglii i Szkocji. Fani tego kultowego zespołu  mogą się bawić w ulubionych rytmach w Newcastle, Edynburgu, Aberdeen i Glasgow.
COMA jest bez wątpienia jednym z najbardziej znanych współczesnych polskich zespołów. Ich koncerty to zawsze wyszukane widowiska sceniczne, które połączone z charakterystycznym wokalem i temperamentem Piotra Roguckiego, zapewniają niesamowite wrażenia.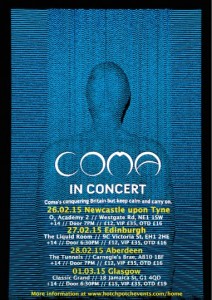 Zapraszamy na koncerty COMA w:
26.02.15 – Newcastle upon Tyne – O2 Academy 2
Westgate Rd, NE1 1SW – Bilety £12 / VIP £35
27.02.15 – Edynburg – Liquid Room
9C Victoria St, EH1 2HE – Bilety £12 / VIP £35
 28.02.15 – Aberdeen – The Tunnels
Carnegie Brae, AB10 1BF – Bilety £12 / VIP £35
1.3.15 – Glasgow – Classic Grand
18 Jamaica Street, G1 4QD – Bilety £15 / VIP £35
Koncerty COMY poprzedzone będą suportem  "The Hyena Kill".
Rezerwacje biletów na:
Więcej informacji znajdziecie na:
http://www.hotchpotchevents.com/home
Relację z tego wielkiego muzycznego wydarzenia znajdziecie wkrótce na stronie www.pozytywni.co.uk.
Wkrótce też wywiad z Piotrem Roguckim.