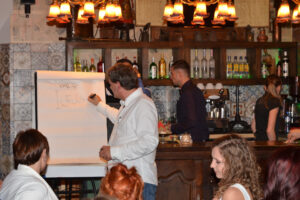 W miniony weekend mieliśmy niebywałą okazję poznać jednego z największych geniuszy w budowaniu relacji międzyludzkich, Piotra Tymochowicza.
Nasz niezwykle charyzmatyczny mówca, to również ekspert do spraw wizerunku i wywierania wpływu doradca medialny i do spraw marketingu politycznego, twórca sukcesu wielu znanych osób, konsultant w zakresie prowadzenia negocjacji, autor i propagator metod Teorii Wywierania Wpływu.
Spotkanie odbyło się z inicjatywy i na zaproszenie portalu pozytywni.co.uk w polskiej restauracji Baba Yaga.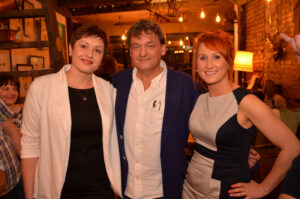 Niesamowita i kameralna atmosfera, którą zbudował mówca, pozwoliła na poznanie naszego gościa prywatnie. Poczucie humoru Piotra, jego genialne podejście do odbiorców, sprawiło, iż relacja była bardzo sympatyczna i pozytywna nawet z przeciwnikami jego koncepcji. Od wielu ludzi padały wyrazy uznania, szacunku i podziwu dla jego działań.
Nasz gość, lider w dziedzinach szkoleń interpersonalnych, poprowadził spotkanie w ramach zainicjowanego przez niego Qlubu Q+ Work and Life Style i poświęcone było głównie projektowi Q+.
Platforma Q + to wynik połączenia Mechaniki Kwantowej i Neuropsychologii, to koncepcja oparta na budowaniu wspólnoty na bazie akceptacji, tolerancji. Społeczeństwo oparte na nowych zasadach komunikacji. W erze kreowania relacji najważniejsza będzie umiejętność budowania komunikatu otwartego, która pozwoli na budowanie pozytywnych relacji z drugim człowiekiem oraz skutecznego zarządzania nimi. To nowe wzorce w aktywności zawodowej jak i w życiu prywatnym, umożliwiające większą kontrolę nad własnym życiem.
Zapraszamy do zdobycia większej wiedzy na temat platformy Q+, teraz Piotr Tymochowicz będzie częstym gościem w Newcastle, gdyż właśnie tu powstanie jeden z wielu oddziałów projektu Q+.
Dziękujemy serdecznie Piotrowi Tymochowiczowi za poświęcony nam czas, za przyjęcie zaproszenia i zapraszamy serdecznie ponownie, pozdrawiamy pozytywni.co.uk.
Barbara Larysz.