Adam Wójcik – bokser, trener, człowiek z pasją, twórca i właściciel klubu Bolton Champion. Zaraża miłością do sportu. Kształci i młodych i tych nieco starszych. Już jest człowiekiem sukcesu, ale w rozwoju nie chce stanąć w miejscu.
Rozmawiamy z nim o klubie, boksie, miłości do sportu i o tym, co zyskał wyjeżdżając z Polski.
[divide]
Skąd się, człowieku, tu wziąłeś?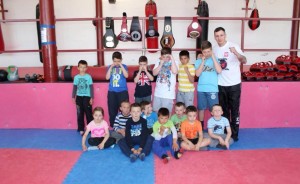 Jestem tutaj, czyli w Wielkiej Brytanii, już od 10 lat. Wtedy, w 2004 roku przyjechałem tu z rodzicami z założeniem,że nie wrócimy już do kraju. Szukaliśmy swojego miejsca. Po raz pierwszy do Anglii przyleciałem z rodzicami w 2002 roku, po roku wróciliśmy do kraju. Tam jednak nie układało się tak, jakbyśmy sobie tego życzyli i dlatego wróciliśmy tutaj. Wtedy osiedliliśmy się w Bolton i tak już zostało. Zmian, póki co, nie planuję. Tutaj osiedliła się moja najbliższa rodzina, mam tutaj wielu znajomych oraz dobrą pracę – to tutaj spełniłem jedno ze swoich największych marzeń.
Dlaczego boks?
Już w dzieciństwie byłem bardzo żywiołowy. Żeby wykorzystać mój potencjał energii, ojciec zabrał mnie na stadion miejscowego klubu Błękitni Tarnów. Zaczynałem od gry w piłkę nożną. Nie wystarczało mi to.  Kiedyś zauważyłem, że przy klubie otwarto sekcję boksu. Pomyślałem, że to coś dla mnie. Postanowiłem spróbować swoich sił i tak oto pod okiem wspaniałych trenerów: Marcina Lechowicza, Janusza Czubana i Aleksandra Maciejewskiego stawiałem swoje pierwsze kroki bokserskie. Po kilku treningach doskonale już wiedziałem, że to to, w czym doskonale się odnajduję.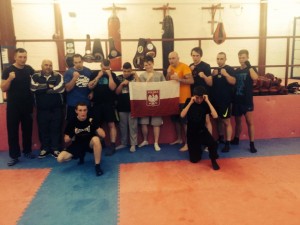 Czy Anglicy boksują inaczej niż Polacy? Kto lepszy?
Nie chcę oceniać, kto lepiej boksuje. Jedno jest pewne – angielski styl boksowania znacznie odbiega od polskiego. Miałem okazję się o tym przekonać, próbując swoich sił w angielskim klubie "Amir Khan gym". W Anglii dużą wagę przykłada się do przygotowania fizycznego, do tzw. twardego boksowania do przodu, natomiast polska szkoła opiera się w dużej mierze na aspektach technicznych.
[clear]
Co jest dla Ciebie miarą sukcesu?
Miarą sukcesu większości zawodników, którzy trenują w moim klubie jest zdobycie medalu olimpijskiego. Zdobycie go wymaga gigantycznego nakładu pracy, ćwiczeń i treningów. Nie każdy ten medal zdobędzie.  Podkreślam jednak zawsze, że niejednokrotnie życiowe zmiany, z jakimi musimy się zmagać, aby stać się lepszym człowiekiem potrafią być jak ten medal.
 Jakie plany na przyszłość?
Moim celem jest rozwój klubu. Wspólnie z trenerem Robertem Wrońskim dążymy do tego, aby jak najwięcej młodzieży, ale nie tylko, trafiało do naszego klubu i rozpoczynało treningi. Nadal chcemy propagować ten sport i zarażać pasją kolejne pokolenia.  Chcę, abyśmy osiągali coraz lepsze wyniki na arenie międzynarodowej.  Za nami już wiele sukcesów, ale mam nadzieję, że jeszcze więcej przed nami.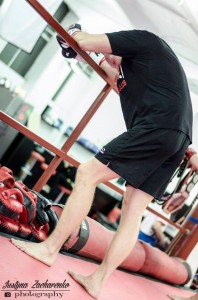 Co byś poradził tym, którzy stoją na rozdrożu i nie wiedzą co ze sobą począć?
Człowiek, który stoi na rozdrożu i nie wie co ma ze sobą zrobić, przede wszystkim musi odnaleźć życiowy cel, znaleźć coś co lubi robić i w czym się spełnia. Sport, jak się okazuje, w wielu przypadkach bywa dla wielu takim celem. Ucieczką od problemów często są używki: alkohol czy narkotyki. Zawsze tłumaczę moim sportowcom, że nie tędy droga. Moją używką, odskocznią od problemów i uzależnieniem jest sport. Każdy z nas w swoim życiu przeżył zapewne coś, co doprowadziło go na rozdroże. Wszystkim poszukującym pasji i spełnienia, proponuję wizytę w naszym klubie. Atmosfera, jaka u nas panuje sprawi, że choć na czas treningu zapomni o problemach codziennego życia. Sport uruchomi optymizm i można będzie inaczej spojrzeć na wszelkie rozterki.
 [clear]
Dzisiaj boks, a co za 10, 15, 20 lat?
Nadal boks – tyle, że na większą skalę.  Przez nasz klub przewija się wielu młodych ludzi. Mam nadzieję, że kiedyś będziemy mogli poszczycić się zawodnikami, którzy osiągną wielki sukces. Wraz z Robertem jesteśmy młodymi trenerami z naprawdę dużym potencjałem. Jesteśmy bardzo zaangażowani i zrobimy wszystko, aby odnosić kolejne sukcesy. Jestem przekonany, że to tylko kwestia czasu.
[clear]
Jak działa klub?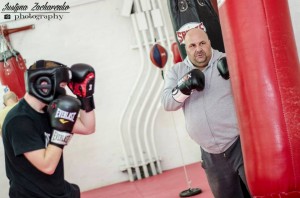 Przedział wiekowy członków naszego klubu to 6 – 100. Najchętniej jednak trenują nasi najmłodsi adepci. Cieszy mnie fakt, że tak wielu rodziców przyprowadza swoje pociechy na nasze treningi, które prowadzimy w formie zabawy. W dzisiejszych czasach rodzice włączają dziecku telewizor czy komputer, byle tylko dziecko było spokojne. Nasze treningi dają coś więcej. Zwiększają koordynację ruchową naszych maluchów, poprawiają wydolność i odporność i co ważne – budują wolę walki, której potrzebuje każdy do pokonywania napotykanych problemów. Klub cały czas się rozwija. Mam nadzieję, że do końca roku uda nam się zarejestrować kilku zawodników, startujących już pod naszym szyldem. Gdyby nie pomoc naszego prezesa – Mariana Straszewskiego i jego ogromnego zaangażowania w rozwój klubu, napotkalibyśmy wiele problemów na swojej drodze. Kontakty oraz współpraca, jaką nawiązał prezes jako wieloletni działacz oraz międzynarodowy sędzia bokserski otwierają nam drogę do współpracy z innymi klubami. Jestem też bardzo wdzięczny Kamilowi Dzbukowi, Oktavii Wójcik, Ireneuszowi Wójcikowi, którzy odpowiadają za sprawy organizacyjne. Oczywiście podziękowania dla wszystkich klubowiczów, bo dzięki nim istniejemy oraz Rafałowi z Hurtowni Aga Food Manchester, który sukcesywnie nas wspiera finansowo.
Powodzenia życzą Pozytywni
J.
Odwiedź Facebookowy profil Bolton Champions klikając TUTAJ