Jak wielu z nas – zaczynał w Anglii od zera. Przyjechał tu, by zarobić parę groszy. Piął się po szczeblach kariery, by teraz po kilkunastu latach stać się przedsiębiorcą, z którego usług korzysta mnóstwo osób, chcących się rozwijać. Mowa o Irku Wróblu – specjaliście od e-biznesu, doradcy. Już osiągnął wiele, a to jeszcze nie szczyt jego możliwości.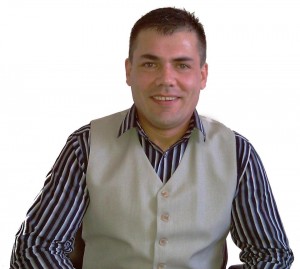 – Czym się Pan zajmuje w Wielkiej Brytanii?
Moją pasją jest Marketing Internetowy, czyli wszystko co jest związane ze zwiększeniem sprzedaży. Zarówno w moim własnym biznesie, jak i biznesach moich klientów. Analizuję obecną sytuację i staram się, tak dobrze jak tylko potrafię, doprowadzić do zwiększenia sprzedaży.
– Dlaczego eBiznes?
Biznes prowadzony w konkretnym miejscu ma swoje ograniczenia, przede wszystkim do ilości potencjalnych klientów, którzy są zainteresowani tym, co oferuję. Czyli mając na przykład, warsztat samochodowy w mieście X, ograniczeniem jest ilość klientów, do których docieram w tym mieście. Oferując to samo w internecie, mogę dotrzeć do znacznie większej ilości klientów. Połączenie stacjonarnego biznesu z biznesem Internetowym, czyli eBiznesem, poszerza krąg zainteresowanych.
– Jakie były początki? Jak Pan tu trafił?
Przyjechałem w 2004 roku. Planowałem kilkumiesięczny pobyt, szybkie zarobienie pieniędzy i powrót do Polski. Życie jednak zweryfikowało plany 🙂
Ostatnią pracą jaką wykonywałem w Polsce była posada, sprzedawcy pieniędzy w banku. Obsługiwałem wielu bardzo zamożnych przedsiębiorców w Polsce. Była to bardzo prestiżowa posada. Po przyjeździe do UK, od pierwszego dnia pracowałem na kuchni jako pomywacz, potem w magazynach jako pakowacz i kierowca wózka widłowego. Po kilku latach pracy otworzyłem dla żony, salon kosmetyczny, który prowadziłem niespełna 4 lata.
Szybko jednak zrozumiałem, że nie wiem, jak się prowadzi biznes w Anglii. Musiałem samodzielnie uczyć się, jak promować firmę w Anglii, jak zdobywac nowych klientów, jak utrzymać biznes, aby przetrwał w czasach kryzysu.
Moje próby zdobycia informacji od polaków, o których miałem zdanie, że są ludźmi sukcesu, zakończyły się fiaskiem. Wówczas zacząłem nawet wierzyć, w obiegową opinię, Jak Polak Wie, To Nie Powie. Dziś już wiem, dlaczego nie powie 🙂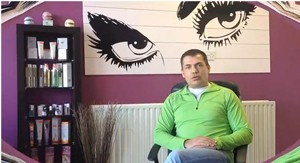 – Skąd pomysł na taki, a nie inny biznes?
Salon kosmetyczny stał się dla mnie nieprawdopodobną skarbnicą wiedzy i możliwością zdobywania doświadczenia. Dlatego, po tak wielu błędach jakie wówczas popełniłem, zacząłem zdawać sobie sprawę, że jeśli robię to, co robię, będę miał to, co mam. Jeśli chcę mieć inne efekty, muszę zacząć robić inaczej lub coś innego.
Stacjonarny biznes stał się dla mnie złotą klatką. Trudno nawet było, zorganizować kilka dni urlopu w roku. A jak już był urlop, to najczęściej załatwiałem tysiące spraw wokół biznesu. Dlatego między innymi, postanowiłem przestać pracować, co skutecznie udaje mi się do dziś.
– Z jakimi trudnościami musiał Pan się zmierzyć po przylocie do UK? A co Pana pozytywnie zaskoczyło?
Tak naprawdę, to musiałem bardzo uważać przechodząc przez ulicę:) Kilkakrotnie o mało mnie auto nie potrąciło 🙂 Tutaj ludzie naprawdę jeżdżą pod prąd 🙂 a przechodząc przez ulicę, trzeba było wyrobić sobie nawyk patrzenia najpierw w prawo 🙂
Pozytywnie zaskoczyła mnie łatwość znalezienia i podjęcia pracy. Pamiętam, że przyjechałem w sobotę około 22:00 a w niedzielę około 15:00 miałem już pierwszą pracę. Bez znajomości języka, ze słownikiem i rozmówkami w ręku, potrafiłem samodzielnie znaleźć pracę i pozałatwiać wszystkie formalności. Tutaj po prostu jest łatwiej!
– Dziś Pana biznes rozkwita? Czuje się Pan już spełnionym człowiekiem?
Tak, biznes rozwija się naprawdę szybko. Oczywiście jest to efekt uboczny wykonywanych zadań i podejmowanych działań, jednak bardzo lubię patrzeć na jego rozwój.
W niektórych dziedzinach życia rzeczywiście, czuję się spełniony, jednak jeszcze wiele pracy mam przed sobą.
– Jaki jest Pana życiowy cel?
Trochę sekciarsko 🙂 Aby zakończyć dzień, mając pewność, że zrobiłem wszystko, co zrobić powinienem. Aby codziennie dodawać wartości osobom, z którymi się spotykam. Aby realizować wszystkie marzenia:)
– Gdzie Pan się widzi za 5, 10, 15, 20 lat? Nadal Wielka Brytania?
Dzisiaj po kilku latach pobytu na emigracji czuję się bardziej jak cygan. Coraz mniej rozumiem polskie problemy i mam świadomość tego, że jestem gościem w obcym kraju. Ale z drugiej strony, jest takie miejsce na ziemi, w którym chciałbym zamieszkać. Szczególnie z powodu jego klimatu i uroczych krajobrazów.
– Jak Pan ocenia Polaków w Wielkiej Brytanii? Czy zgadza się Pan z opiniami niektórych mediów, że jesteśmy tu zupełnie niepotrzebni?
Od wielu lat przestałem się interesować mediami. Kiedyś miałem ogromny szacunek do mediów, ale zmienił się on po tym, jak poznałem wielu dziennikarzy i redaktorów naczelnych. Dziennikarz, to osoba, która ma kredyty do spłaty, często osoby na utrzymaniu. Otrzymuje wynagrodzenie za napisanie artykułów, które najczęściej nie mają nic wspólnego z prawdą, ale za to świetnie się sprzedają.
Gdy jeszcze kiedyś czytałem artykuły polskich mediów w UK, wielokrotnie odpisywałem oburzony, starałem się prostować wypaczoną (na potrzeby artykułu) rzeczywistość, jednak po jakimś czasie zostawiłem ich w spokoju. To oni (dziennikarze) mają problem, nie ja.
Nie ma w ogóle ludzi niepotrzebnych na tej ziemi. A jak ktoś tak twierdzi, to zawsze zadaję sobie pytanie: Jaki jest cel takiego przekazu?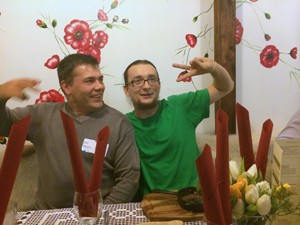 – Co może Pan poradzić Polakom, którzy wahają się nad przylotem do Wielkiej Brytanii i nad założeniem tu własnej firmy?
Nie zamierzam ani zachęcać ani zniechęcać do emigracji 🙂 Jeśli ktoś dobrze w Polsce zarabia, najprawdopodobniej nie będzie myślał o emigracji, aczkolwiek bywa różnie 🙂
Wiele osób myśli, że wystarczy wylądować na Heathrow aby, Królowa Anglii, przysłała po nas swój orszak ze świtą, obsypując nas funtami:)
Gdy przyjeżdżałem do UK, nie snułem nadziei, nie wiedziałem jak jest i czego się spodziewać. Chciałem tylko zarobić. Wcześniej bywałem już w Norwegii, Niemczech, Francji na kilkutygodniowych wyjazdach zarobkowych i wiedziałem tylko tyle, że trzeba się spiąć, zacisnąć pasa i pracować, aby zarobić.
To, że tutaj jest łatwiej nie oznacza, że się samo zrobi. Oczywiście na każdym kroku zachęcam do zakładania firmy, ale nie ze względu na korzyści podatkowe, czy miejsce jej prowadzenia. Własny biznes to niezależność, ale zdaję sobie sprawę, że nie każdy ma duszę przedsiębiorcy 🙂
– O czym Pan marzy i w jaki sposób dąży Pan do realizacji swoich marzeń?
To co powiem, nie będzie twórcze. Marzenia zapisuję, rozpisuję, czytam, działa i czekam 🙂 A tak poważniej, to każde marzenie zapisuję. Jak, kiedy i za co mogę je zrealizować? Zapisuję w kalendarzu, jakie działanie muszę podejmować każdego dnia, aby je zrealizować i często wracam do swoich notatek, analizuję je i sprawdzam postępy.
Mam marzenia związane z wykonywaną działalnością jak i życiem osobistym – jak każdy 🙂

  
– Gdzie w Wielkiej Brytanii możemy Pana znaleźć i skorzystać z Pana biznesowej oferty?
Mam wiele portali i stron, jednak jeśli rozmawiamy o biznesie w Anglii, zapraszam na stronę eBiznes.co.uk. A dla wszystkich czytelników Pozytywni.co.uk, którzy doszli aż tutaj, czytając te słowa, mam przygotowaną niespodziankę. Wystarczy wejść na stronę Jak Realizować Marzenia i pobrać Darmowy eBook. Naprawdę warto! 
– Czego Pozytywni mogą Panu jeszcze życzyć? 
Wolności 🙂
– Życzymy zatem Wolności! I sukcesów.
Jaśko