Jedyną stałą rzeczą w naszym życiu jest zmiana. Więc zmień swoje życie na lepsze. Określ cel i zacznij do niego dążyć. Ani się obejrzysz, a będziesz miał go na wyciągnięcie ręki. 
Postanowiłam opowiedzieć Wam historię mojej zmiany, która sprawiła, że wierzę, że wszystko jest możliwe. 
A zaczęło się od tego kawałka:
Był rok 2010. Mieszkałam wtedy w małym obskurnym domku, miałam (wydawało mi się wtedy) – niezłą pracę, męża, dwie cudowne córeczki i żyłam w przekonaniu, że wszystko jest ok (przynajmniej tak sobie to moje ułożone życie tłumaczyłam). Były momenty, że bywałam szczęśliwa – myślałam wtedy, że wszyscy tak mają i nie narzekałam, że jakoś tak mało tego szczęścia . Z pokorą niosłam swój krzyż i doklejając uśmiech, udawałam szczęśliwą. Niewielu się zorientowało, że to maska.
Podświadomie cały czas chciałam zmiany i właśnie podświadomość mocno do tej zmiany dążyła. Dzisiaj, z perspektywy czasu wiem, że los, uniwersum, góra, siła kosmosu czy obojętne jak to zwał, podsyłało mi sygnały i okoliczności, których wtedy nie potrafiłam odczytać. Jednym z tych sygnałów było nagranie w Kaliszu (czyli w moim mieście) teledysku do utworu Mietka Szcześniaka "Rzeczy zmieniają się".
 Z racji tego, że znalazłam się w odpowiednim miejscu o odpowiedniej porze, moja starsza córka  – Zuzanna (wówczas 5-letnia) znalazła się w obsadzie tego teledysku. Pamiętam ten dzień jak dziś. Już od samego rana stroiłam ją, bo miała być ubrana w sukienkę o jednolitym stonowanym kolorze i takich samych bucikach. Akurat butów stonowanych nie miała (bo wiecznie kupowałam jej krzykliwy róż), więc jeszcze rano przed zdjęciami pojechałyśmy kupić buciki. Szarych nie było, za to znalazłam śliczne srebrne na gumce. Kupiłam i pojechałyśmy do kaliskiego Parku Miejskiego kręcić teledysk. Nie wiedziałyśmy jeszcze wtedy, o czym ten Mietek będzie śpiewał i o czym będzie teledysk. Dowiedziałyśmy się dopiero po kilku godzinach. Ktoś z ekipy technicznej przyniósł małego czarnego boom-boxa i włączył utwór, żeby się ludziska osłuchali. Właściwie wtedy nie wsłuchiwałam się w tekst piosenki. Były ważniejsze rzeczy przecież – moje dziecko z balonikiem miało spacerować po parku, nagrywane przez kilka profesjonalnych kamer. Nagranie tych kilku raptem kilkunastosekundowych ujęć "dziewczynki z balonikiem" trwało niemal cały dzień. Dopiero wieczorem, po powrocie z moją gwiazdą filmową do domu, moja podświadomość zaczęła śpiewać:
"Narzekałem tak, mijały mi najlepsze dni,
Nie wiedziałem, czego chcę, więc los obijał mnie.
Chciałem zmian, więc przyszły zmiany,
Rzeczy zmieniają się…."
Moją podświadomość, niesioną nadzieją zmian, mocno w śpiewaniu wspierała Zuza. Też chodziła po domu i nuciła dopiero co usłyszaną piosenkę, którą świat miał usłyszeć dopiero za kilka miesięcy. Na zmiany w moim życiu musiałam poczekać trochę dłużej.
Ale finał tej opowieści miał być taki, że zmian się doczekałam. Radykalnych. Wystarczyło uświadomić sobie, czego ja właściwie od życia chcę, a ja chciałam banału – chciałam być szczęśliwa.  I tak bardzo chciałam tego szczęścia, że coraz odważniej zaczęłam po nie sięgać. Postanowiłam zacząć realizować marzenia i pasje, odnowić stare przyjaźnie, wyjść do ludzi i po prostu być szczęśliwą – za wszelką cenę, nawet za cenę związku, w którym to szczęście nie było możliwe, za cenę wyklęcia z bogobojnej rodziny "nie popierającej rozwodu, bo przecież takie rzeczy w tej rodzinie się nie zdarzają".  Postanowiłam, że nienormalne nie będzie dla mnie już nigdy więcej normalnością, że będę mówić "NIE" kiedy będę uważała to za stosowne, że nie będę się naginać rezygnując z tego, co dla mnie dobre, że moje dzieci będą wzrastały tylko z zdrowych relacjach z najbliższymi, realizując swoje pasje.
Dzisiaj nie jestem sama. Przy mym boku jest mężczyzna, który pozwala mi być szczęśliwą. Był już od wielu lat, ale tak jak to w pięknych historiach o miłości opowiadają – stał w cieniu niezauważony i przyglądał się moim poczynaniom. W razie potrzeby służył pomocą. Był zawsze. I czekał.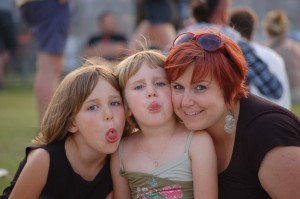 Kilka lat temu, na długo przed zmianą, zrobiłam sobie listę 100 marzeń do realizacji przez całe życie. Obiecałam sobie, że chociaż po jednym w ciągu roku będę spełniać. Wtedy było z tym ciężko. Teraz spełniam po kilka w krótkim odstępie czasu. Mój mężczyzna pilnuje, żebym spełniała marzenia systematycznie. Ten, kto kiedykolwiek taką listę robił wie, że wypisanie 100 marzeń tak od ręki jest niemożliwe. Pierwszych kilkadziesiąt wypisałam bez problemu, a potem zaczęłam zapisywać już drobiazgi takie jak: zawsze świeże kwiaty w wazonie, czas na wspólne posiłki z rodziną, picie co rano herbaty z ukochanym mężczyzną, od czasu do czasu kąpiel w wannie przy świecach, pokój dla dzieci, kurs plastyczny, spływ kajakowy, Jarocin Festiwal, wczasy za granicą, wyjazdy na weekendy całą rodziną, wyjazd do jednej zapomnianej przyjaciółki, wyjazd do drugiej, wyjazd do trzeciej, regularne spotkania z bratem, który siedzi w UK, czas na czytanie książek, zadbane paznokcie…. Itd., itd.
I wiecie co się już wydarzyło tylko w ciągu jednego roku?
– wyjechaliśmy na weekend w góry
– wyjechaliśmy na weekend nad morze
– wyjechaliśmy na spływ kajakowy
– pojechaliśmy na Koniec Świata do Oleńki
– pojechaliśmy na weekend do Żaby
– zaliczyliśmy Jarocin Festiwal
– odwiedziliśmy Słowenię, Chorwację, Bośnię i Hercegowinę
– nauczyłam się decoupage`u
– dzieci mają swój pokój, a ja zadbane paznokcie 🙂
A w wazonie mam świeże kwiaty, piję herbatę z moim mężczyzną i nie mogę się z nim nagadać. Jemy wspólne posiłki, a jak jestem grzeczna, mam przygotowaną gorącą kąpiel w otoczeniu 30 pachnących świec. Z bratem rozmawiam codziennie, po kilku wizytach w Wielkiej Brytanii planujemy kolejną. Moje dzieci są szczęśliwe.
"Zobacz mamo, teraz mamy tak normalnie. Normalnie tak normalnie. Wszystko się da. Trzeba chcieć"  mówi moja starsza córka, a młodsza dodaje: "A ja nie chcę mieć braciszka, chcę siostrzyczkę".
Mietek Szcześniak pięknie puentuje moje życie:
"Było słabo, jest genialnie,
Niebo znów otwiera się na mnie.
Rzeczy zmieniają się"
A więc życie: NADCHODZĘ! Mam nadzieję, że z bandą POZYTYWNYCH, którzy też mają wiatr w żaglach i spełniają swoje marzenia w wielkim świecie.
Można? Można!!! Patrzcie na mnie!!!