Damian Leśniak – chory na mózgowe porażenie dziecięce – to w najszej Galerii Pozytywnych wyjątkowa osoba. Jeździ na wózku i pewnie, gdyby nie trafił do Wielkiej Brytanii, nigdy nie byłby tak blisko upragnionego celu. Damian marzy bowiem o tym, by stanąć na własnych nogach. Dzięki regularnym treningom i wsparciu z klubu Bolton Champions jego cel jest na wyciągnięcie ręki. Damian jest najlepszym dowodem na to, że niemożliwe jest możliwe.
Jesteś tak wyjątkowym człowiekiem, że właściwie nie wiem, od czego zacząć. Może więc tradycyjnie – od początku. Kim jesteś i jak znalazłeś się w Wielkiej Brytanii?
Kim jestem? Zwyklym, szarym czlowieczkiem, nie mam w sobie żadnych ukrytych talentów, nie mam żadnego wyuczonego zawodu niestety, ale caly czas próbuję, wiec może kiedyś się uda ;))). Do UK przyjechalem z rodzicami 8 lat temu, nadal tu jestem i nie zamierzam wracać do Polski.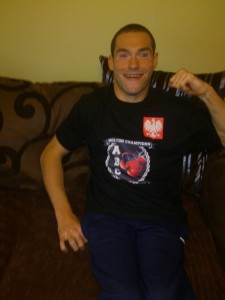 A jak trafiłeś do klubu Bolton Champions i na co wtedy liczyłeś? Co sobie myślałeś, przekraczając próg klubu bokserskiego?
Do klubu bokserskiego trafilem dzięki mojej mamie, która chcąc pomóc mi znaleźć przyjaciól albo klub, do którego mógłbym uczęszczać, umieścila post na faceeboku z pytaniem: "Czy ktoś zna jakiś klub, gdzie mógłby uczęszczać niepełnosprawny młody czlowiek?" Po tym apelu odezwał się Adam i zaoferowal swoją pomoc. Kiedy dowiedziałem się, że jadę do klubu bokserskiego, nie byłem specjalnie zadowolony, bo jakoś mnie to nie kręciło, jednakże po krótkim czasie okazało się, że to wspaniały sport.
Postawiłeś sobie bardzo trudny cel – stanąć na własnych nogach. Niełatwo to osiągnąć. Mimo wszystko, walczysz i dajesz radę.
Mój cel jeszcze nie został osiągnięty. To trudna, cieżka i żmudna praca, ale naprawdę przynosi efekty. Chcę stanąć na własnych nogach i być jak najbardziej samodzielnym – to moje jedyne i najwazniejsze marzenie w tej chwili. Później, kiedy już to osiągnę chciałbym znaleźć pracę i w miarę możliwości życ jak inni ludzie.
Kto jest dla Ciebie największym wsparciem. Kto kazał Ci wstawać, kiedy Ty wolałeś już usiąść?
Moim największym autorytetem jest Adam – mój trener i najlepszy przyjaciel, który od roku pomaga mi stanąć na własnych nogach, pomimo tego, że nie jest rehabilitantem. Cały czas szuka odpowiednich ćwiczeń, ktore moglyby byc pomocne. To super czlowiek i kumpel, ale żeby się nie popsul po przeczytaniu tego artykułu, to dodam że czasem potrafi zajść za skórę ;)) On nie zna słów: nie da rady tego zrobić. Adam jest twardym i upartym facetem, a ja biorę z niego przyklad i nie poddaje się. Zresztą nie bardzo mogę, bo prawie codziennie dzwoni żeby sprawdzić, czy zrobiłem trening w domu, więc nie ma że boli, chcesz czy nie chcesz – ma być zrobione ;))).
Często się mówi, że Polak Polakowi wilkiem, że Polacy zamiast wspierać się w trudnych momentach, tylko się krytkują i zamiast pomagać – szkodzą. Co sądzisz o takiej teorii? Tobie największe wsparcie dają przecież rodacy.
" Polak Polakowi wilkiem" – nie odnosiłbym tego powiedzenia tylko do Polaków. Tak jest prawdobopodnie w każdej innej narodowości. Mnie osobiscie nie spotkalo nic złego ze strony Polaków, wręcz przeciwnie – poznalem tu w UK mnóstwo wspaniałych ludzi – głównie Polaków. Są to znajomi moich rodziców, jak i moi znajomi z klubu i nie tylko. Co więcej, mnóstwo zupełnie obcych dla mnie ludzi, pisze, udzielając rad i wskazówek albo mówiac coś, co bardzo motywuje. To wszystko jest dla mnie bardzo ważne i naprawde dodaje mi skrzydeł. Za to wsparcie chciałbym wszystkim bardzo gorąco podziękować.
Jak wyobrażasz sobie przyszłość w Wielkiej Brytanii?
Myślę, że Anglia to kraj wielkich możliwosci, więc kiedy już osiągnę swój cel albo jakąś jego część, będę szukal pracy i mam nadzieję, że będzie dobrze.
W takim razie życzymy Ci siły, determinacji i konsekwencji. Niech spełnią się Twoje piękne marzenia – już są w zasięgu ręki 🙂
Pozytywni
Przyłącz się do akcji "Pomóżmy Damianowi wstać" na fb:
https://www.facebook.com/pages/Pom%C3%B3%C5%BCmy-Damianowi-wsta%C4%87/875145732550175?ref=ts&fref=ts