Joasiu, od kiedy rysujesz i czym rysowanie jest dla Ciebie?
Śmiesznie będzie powiedzieć, że rasuję "od dziecka'', bo w zasadzie każde dziecko gdzieś tam bazgra i stara się rysować rozwijając wyobraźnie, pamiętam, jak przynosiłam kredę ze szkoły i rysowałam w domu na drewnianej boazerii. Potem dobrze myłam ściany, zanim mama z pracy wróciła, dobrze, że tego nie wiedziała, bo tyłek bym miała siny…hahaha, no teraz już o tym wie. Potem robiłam prace domowe z plastyki w zamian za ściągi z matmy i fizyki. Pomimo zamiłowania do zajęć artystycznych, nigdy nie poszłam do szkoły plastycznej, nie ukończyłam żadnych kursów, jestem totalnym samoukiem i wszystko, co robię, zawdzięczam własnej, ciężkiej pracy i nauce na własnych błędach.  Lubię rysować, tworzyć, to mnie bardzo uspokaja i jest odstresowujące od pospiechu życia codziennego.
Jaka jest Twoja oferta i gdzie można Cię znaleźć?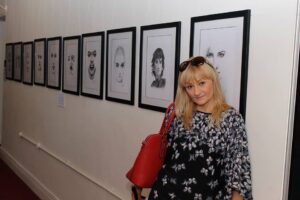 Rysuje przede wszystkim portrety w wersji minimalistycznej – mniej znaczy więcej – jest w nich coś innego, interesującego, a także jest dla mnie wyzwaniem, żeby stworzyć twarz, której prawie nie ma, a jednak wszyscy wiedza kto to jest. Ale musze również przyznać, że spotkałam się z opinią, ze moje rysunki są niewykończone, no, ale cóż, nie wszyscy maja takie same gusta….  Lubię rysować celebrytów, tam zawsze można zagrać wyobraźnią, zwierzęta, dzieci, a także rysuje dla dzieci – postaci z filmów rysunkowych i familijnych. Nie ma lepszej nagrody jak zadowolenie na buzi dziecka. Zapraszam do odwiedzenia mojej art strony na facebooku, na której zamieszczam większość moich prac, jak również do zakupu części z nich na nowo otwartej  www. Współpracuje z kilkoma galeriami w Newcastle i okolicach, gdzie również można zobaczyć i zakupić moje prace. Wkrótce nowa oferta, nad która pracuje, ale to jeszcze tajemnica.
Facebook/AtrJo      http://www.artjo.uk/
W czym jeszcze jesteś utalentowana, jest coś jeszcze?
Talent to bardzo względne pojęcie, każdy jakiś ma, ale nie wszyscy go w sobie jeszcze odkryli, ja swój nadal odkrywam, pielęgnuje, dopieszczam i nie pozwolę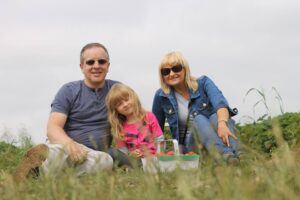 nikomu mi go zabrać! Coś jeszcze..??? Tak, gram na gitarze, pianinie i nerwach…to ostatnie dopracowałam bardzo profesjonalnie…J
Wracając do początków, proszę opowiedz, co zdecydowało, że mieszkasz w UK?
Hahaha!!!  Masz Basiu dużo czasu??? Bo to długa historia, ale postaram się ją skrócić najbardziej jak mogę. Lata temu, pomimo tego, że miałam fajną, stabilną pracę, zachciało mi się podróży po świecie. No i wyjechałam do pracy do Stanów, oczywiście tak jak marzyłam, zwiedziłam pół świata, zobaczyłam przepiękne miejsca, poznałam wielu wspaniałych ludzi, no i pewnego dnia….zakochałam się w five o'clock 'u z Norte East. Wspólnie jeszcze podróżowaliśmy pracując, ale pewnego dnia trzeba było już jakoś się ustabilizować, wiec zamieniliśmy piękne, tropikalne klimaty Florydy na deszczowe i wietrzne Newcastle, jejku, do dziś nie wierze w to, co zrobiliśmy – no, ale czego się nie robi dla miłości..????
Czujesz się szczęśliwa żyjąc tutaj? Czym szczęście jest dla Ciebie?
Pewnie, że tak!!! Mam tu wszystko, co jest mi potrzebne do szczęścia, Marca, nasza kochaną córeczkę Zosię, zdrowie, cześć rodziny z Polski, prace i moje ołówki.
Co jest Twoim największym sukcesem?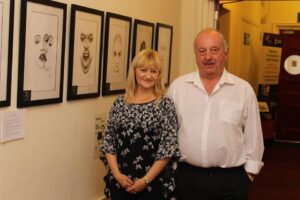 Bez dwóch zdań, moja rodzina to mój największy sukces, który jest dla mnie najważniejszy!!!  Również sukcesem była moja odwaga wyjazdu w daleki świat. Co do rysunków, sukcesem było pojawienie się w grupie artystycznej Be Creative, wspaniałego i znanego artysty Andrzeja Zagadana, z jego pomocą mogłam zaistnieć na wystawie w Gateshead, która okazała się dla mnie wielkim sukcesem – wyszłam z rysunkami w świat, przestalam się bać krytyki!
W takim razie, jaką przyszłość widzisz dla siebie i swojego kreatywnego działania?
Tak do końca nie wiem… na pewno będę rysować. Może jakieś nowe wystawy, pomysłów mam tysiąc, tylko czasu brak na ich realizacje. Jak wcześniej wspomniałam, pracuje nad nowa ofertą, z którą zapoznam Was jak tylko wejdzie w życie.  Nie widzę siebie obok takich osobistości jak: Picasso, Monet, czy mój ulubiony Dali, ale bym chciała, aby moje prace zawisły na ścianach wielu domów i cieszyły oko niejednej osoby. W każdy rysunek wkładam cząstkę siebie, czas z mojego życia, myślę wiec, że zostawię jakąś malutką ryskę w dziedzinie sztuki, fajnie, jak ktoś kiedyś powie, "zobacz jakie fajne dzieło, Aśka rysowała…''
Serdecznie dziękuje za wywiad i wszystkich gorąco pozdrawiam.
My również dziękujemy, życzymy dalszego rozwoju i wiecznej weny.
 Barbara Larysz