Tradycyjnie, na początku chciałabym zapytać o Pani początki przygody z Krav Maga, skąd pomysł na trenowanie tej dziedziny?
Trenowalam wiele rożnych sztuk walki, jednak kazdej brakowalo tego czegos. Każda sztuka miala swoje sztuczne ograniczenia, które nie poprawiały szansy przetrwania na ulicy, a wręcz przeciwnie.
Kiedy jeden z moich znajomych (zawodowy boxer) został zaatakowany na ulicy przez ponad 10 napastnikow, zrozumialam, że my bylismy nauczeni jak walczyć, a nie jak unikać niebezpieczeństwa. Krav Maga dla mnie to sztuka rozpoznawania zagrożen. System jest znacznie bardziej kompletny niz inne sztuki walk i buduje umiejetnosc adaptacji do różnych  sytuacji.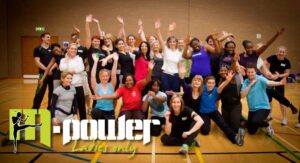 Jest Pani instruktorką Krav Maga od sześciu lat, trenuje Pani tę sztukę od dwunastu, czym Krav Maga i trenowanie ludzi jest dla Pani?
Mimo tego, ze współczesny świat jest pełny zagrożen, na które staram sie przygotować moich uczniów, głównym celem treningu jest zbudowanie silnej osobowości, wzbudzenie pewności siebie i rozbudzenie chęci do samodoskonalenia. Tak naprawdę każdy z nas jest lepszy, niż czesto sami o sobie myślimy. Zadaniem instruktora jest zachęcenie ucznia, aby odkryl swoje wrodzone umiejętności i cechy.
Czy Krav Maga jest dla każdego?
W moim klubie prowadzimy zajęcia dla grup dziecięcych 5-13 lat, jak również dla dorosłych,  więc najmłodszy uczeń ma 5 lat a najstarszy 56. Krav Maga,  jako system, jest dla każdego, ponieważ jest oparta na naturalnych odruchach. Zawsze jednak najlepiej jest spróbowac samemu, a nie sluchać opinii innych ;-).
Jest Pani ogranizatorką wielu kursów:  broni palnej, fitness, M-power proszę nam opowiedzieć o nich więcej…

M-power jest corocznym eventem organizowanym w celu uświadomenia kobietom jak silne mogą być.
Zajecia M-power pozwalają, wszystkim uczestniczkom, w sposób prosty i naturalny opanować strach wywołany brutalnością napadu, kształtują podstawowe nawyki obronne oraz uczą neutralizować działania potencjalnych napastników.
M-power zaprojektowany jest wyłącznie dla kobiet. Szkolenie rozpoczyna się od nauki rozpoznawania sytuacji zagrożeń i unikania ich, treningu pewności siebie i zachowania przy spotkaniu z napastnikiem. Uczestniczki uczą się reagować stosownie do poziomu zagrożenia i rozwiązywania konfliktów poprzez fizyczną i słowną samoobronę. Przez ostatnie 3 lata M-power był bezpłatnym eventem, ale robiliśmy zbiórkę pieniędzy na rzecz Cancer Research. W tym roku zbieramy skromna opłate i zyski beda przekazane na rzecz akcji charytatywnej.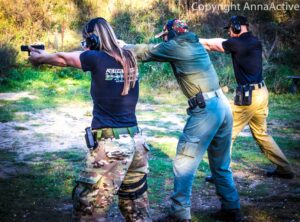 strona eventu- http://www.activekravmaga.co.uk/mpower/
Firearms Crash Course to obozy strzelectwa taktycznego, przeznaczone głównie dla uczniów klubów Krav Maga z różnych krajów. W zeszlym roku zorganizowałam trzy kursy strzeleckie, które cieszyły się dużą popularnością.
Dodatkowo, jest Pani Trenerem Personalonym, Lifestyle Coachem oraz jest Pani fotografem Jak znajduje Pani czas na to wszystko?
Według mnie zadowolenie z życia pochodzi z trzech głównych elementów: 1-wplywaniu w pozytywny sposob na życie innych 2-bycie aktywnym fizycznie i umysłowo i 3 doskonaleniu siebie.
Ponieważ moje zajecia są podporzadkowane tym elementom, ja nie odczuwam typowego zmęczenia po pracy. Kocham to co robię i każdego dnia wstaję rano podekscytowana tym, co przyniesie nowy dzień.
Posiadam wiele kwalifikacji, których tutaj nie wypisze, ale wszystkie pomagają mi być jeszcze lepszym instruktorem dla moich uczniów.
3 lata temu mialam niefortunny wypadek i wybilam sobie oba barki. Oczywśicie takie wydarzenie jest fizycznie i psychicznie bolesne, szczególnie biorąc pod uwagę moją pracę jako instruktora. Kiedy pojechałam na 3 dniowy trening instruktorski ciężko mi bylo usiedzieć spokojnie i patrzec na trenujacych kolegów, a wiec chwyciłam aparat, a że dość dobrze Krav Mage znam, łatwo mi bylo uchwycić na zdjeciach najlepsze momenty. Od tamtej pory fotografia stala się moją kolejna pasją i każdy event jest nowym ekscytujacym wyzwaniem. Fotografia a dokładnie edytowanie zdjęć daje mi możliwość ekspresji mojej kreatywnej strony 😉
Jak widać jest Pani bardzo aktywna fizycznie, czym ta aktywność jest dla Pani?
Jak wspomnialam wczesniej, bycie aktywnym jest dla mnie bardzo ważne gdyż daje mi to energię, radość, a ponadto pewność siebie i umiejetności.
Trudno zmotywować innych?
Przyznajeę, zże czasem nie jest to łatwe, ale kiedy zrozumie się czym kierują się uczniowie i jakie cele mają kiedy zaczynają trenować w klubie, można dostosować techniki do indywidualnych potrzeb. Obserwowanie poprawy w życiu uczniów wynikajacych z regularnych treningow jest najbardziej satysfakcjonującym aspektem mojej pracy.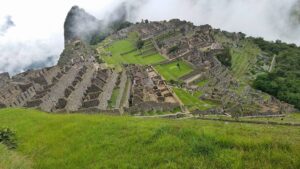 Posiada Pani sposób, jak zmotywować się samemu przed sobą?
Kiedy robi się to, co się lubi, nie jest trudno o motywację. Staram się podążac za zainteresowaniami, których mam wiele. Każdy dzień jest zupełnie inny, przez co życie jest ciekawsze. Kiedy muszę robic to za czym nie przepadam (np. robotę papierkową) staram sie zautomatyzować proces i zarezerwować sobie okresloną ilość czasu w kalendarzu na okreslone zadanie. Dyscyplina jest jak miesień, który trzeba ćwiczyć. Przydaje się w każdej dziedzinie życia.
Jak wysoko podniesie sobie Pani poprzeczkę w tym roku?
Poprzedni rok byl pełen wydarzeń i wyzwań. Uczestniczyłam we wielu konferencjach biznesowych, treningach Krav Maga i obozach strzeleckich. NajwiĘkszym wyzwaniem byŁo takŻe uczestnictwo w konkursie bikini fitness, gdyż jest to dalekie od mojego 'stylu' ;-).
Ten rok zaczęłam od wyzwania -przejscia Inka Trail prowadzącego do Machu Pichu w Peru. To bylo niesamowite doświadczenie, które zachęciło mnie do dalszych podróży.
Do kwietnia planuję skupić się na rozbudowaniu klubu. W tym roku już pracuję nad trzema obozami strzeleckimi, workshopem M-power, organizuję examiny Krav Maga dla uczniow, ponadto kręcę filmiki fitnessu do mojego nowego kanalu Youtube.
https://www.youtube.com/watch?v=H_cNYurPtEI
A co do rozrywek, to na najbliższe miesiące mam zaplanowany krótki kurs spadochroniarstwa, skok na bungee oraz obozy strzeleckie.
Można mnie znaleźć pod https://www.facebook.com/asurowiec
Dziękujemy bardzo za wywiad i poświęcony czas, życzymy dalszych sukcesów i realizacji wszystkich wyzwań. 
Barbara Larysz.