Andrzej Kaczkowski – hipis, narkoman – tak mówi o sobie. To człowiek po przejściach, bardzo doświadczony przez życie, a przede wszystkim przez używki, które przez wiele lat władały jego życiem. Dzisiaj Andrzej robi bilans swojego życia i aby uświadomić do jakich tragedii mogą doprowadzić narkotyki, wydaje książkę. "Ja, hipis-narkoman. Od fascynacji do degrengolady" – to tytuł książki, która być może dzięki Wam – zostanie już wkrótce wydana.
Wesprzyj książkę hipisa – narkomana
Książka "Ja, hipis-narkoman" to rzecz o narkomanii totalnej. Nie rozprawka o weekendowo imprezowym poćpywaniu dla chwilowej przyjemności. To lot przez kawał historii PRL-u, lot nad brudnym, biednym krajem zgnębionych ludzi, mających tylko dwie opcje – albo się przystosować do szarości, albo rozpocząć poszukiwania na własną rękę. Czyta się to bardzo dobrze, a ponieważ temat jest uniwersalny i międzynarodowy, my – Pozytywni – postanowiliśmy pomóc Andrzejowi w promocji wydawnictwa i w zebraniu odpowiedniej w tym celu kwoty.
– Pomysł na napisanie tej książki zrodził się we mnie trzynaście lat po zakończeniu leczenia w ośrodku Monaru w Nowolipsku. Od roku 1978 do 1998 byłem czynnym narkomanem, który metodycznie rujnował swój potencjał, zdolności i, krótko mówiąc, całe swoje życie. Na początku nie czułem, że te poszukiwania wolności i oryginalności idą w złym kierunku. Byłem szczerze zafascynowany ideologią hipisowską, której nieodłącznym atrybutem były narkotyki, mające jakoby poszerzać percepcję i świadomość. Ideologia wolności, miłości i pokoju była na początku ważniejsza niż samo ćpanie. Zostałem rasowym hipisem: wyglądałem jak hipis, żyłem jak hipis i jak hipis kochałem wszystkie żywe istoty na tym świecie. I myślę, że dzięki temu nigdy nie zeszmaciłem się do końca – opowiada Andrzej.
Dzisiaj, po wielu dramatycznych momentach, Andrzej chce się podzielić swoimi doświadczeniami. Jedno w jego życiu się nie zmieniło. Ciągle i bez granic kocha muzykę, dlatego bywalcy festiwali Woodstock czy Jarocin powinni go doskonale kojarzyć.
To ten hipis na wózku niejednokrotnie wnoszony na scenę.
Drodzy Pozytywni, jeśli choć w części identyfikujecie się z obecną filozofią życiową Andrzeja Kaczkowskiego – pomóżcie mu wydać książkę. Jesteśmy przekonani, że przyniesie ona wiele korzyści społeczności nie tylko polskiej, ale również międzynarodowej.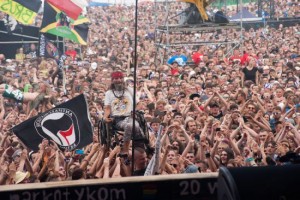 Zajrzyjcie na:
https://wspieram.to/3397-ja-hipis-narkoman.html
i zasilcie choćby kilkoma złotymi konto przeznaczone na wydanie tej cennej książki.
Z góry dziękujemy,
Pozytywni