Trudno bez niej żyć, bo towarzyszy nam w najważniejszych momentach życia, na pierwszej randce, na ślubie, w podróży i na wakacjach… Jest naszym wiernym towarzyszem, kompanem na dobre i złe. Ona jest z nami niemal zawsze… Przy naszych wzlotach i upadkach, przy rozstaniach i powrotach. Jest wszechobecna! Potrafi nas rozbawić i wzruszyć. Jest najpiękniejszą częścią naszego życia. Jej imię to Muzyka…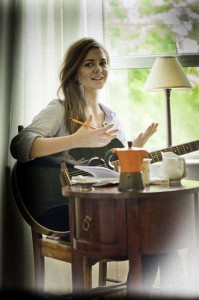 Agatha Rozumek – utalentowana polska wokalistka – śpiewająca głównie po angielsku, od kilku lat mieszkanka Wysp Brytyjskich.[dropcap][/dropcap]
Masz wielki talent, wspaniały głos, niebanalną urodę. Jak zrodziła się twoja pasja do muzyki? Opowiedz o początkach tej drogi…
Pierwszą piosenkę napisał dla mnie tata. Miałam wtedy 4 lata. Tata wystawiał szkolne przedstawienia, to była jego pasja. Jako nauczyciel biologii jezdził po Polsce z grupą uczniów akompaniując im grą na akordeonie. Mama szyła kostiumy, pomagała przy dekoracjach. To, że mam wyjść na scenę i zaśpiewać piosenkę o krasnoludkach było dla mnie rzeczą naturalną. Piękne czasy….
Jako dziecko już ciągnęło Cię w wokalne strony. Jaki rodzaj muzyki preferowałaś będąc jeszcze dzieckiem i jak te upodobania zaczęły się zmieniać wraz z wiekiem?
Wychowałam się w domu, w którym słuchano radia. Moi rodzice nie mieli kolekcji płyt winylowych, więc o ''The Doors'' czy '''Pearl Jam'' dowiedziałam się dużo później, niż większość moich rówieśników. Pamiętam kolędy Eleni, mama ją uwielbiała i to była pierwsza kaseta jaką mieliśmy. Przez kilka lat z rzędu była grana w okresie świąt. Oglądałam często telewizyjny koncert życzeń i bardzo fascynowały mnie błyszczące stroje Sośnickiej czy Ostrowskiej. Kwestia preferencji pojawiła się dużo później – inspiracja przyszła od znajomych, pożyczałam od nich płyty, jeździłam na rolkach słuchając Garego Moore'a, mając wtedy 12 lat.
Jakie przeszkody napotykały w realizacji marzeń? Jak je pokonałaś? Co było najtrudniejsze?
Zrobić coś po swojemu – to największa przeszkoda. Musisz zaufać sobie, pójść za głosem intuicji i wierzyć, że wszyscy dookoła się mylą.
Znalazłaś się w Londynie, śpiewasz po angielsku. Jak do tego doszło, że Polska straciła taką perełkę artystyczną? Czy myślałaś o karierze w Polsce, próbowałaś…?
W Polsce nagrałam płytę, ostatnie dwa lata koncertowałam właśnie tam. Nie sądzę, że to ma znaczenie gdzie mieszkam. Piosenki pisane po angielsku nie są najłatwiejszym materiałem do promocji w Polsce, ale jest grono słuchaczy, które docenia i wspiera moje poczynania. Jestem im za to bardzo wdzięczna.
Czy wg. Ciebie łatwiej jest podbić rynek zagraniczny niż polski? Gdzie jest większa konkurencja?
Myślę, że wszystko zależy od rodzaju muzyki jaki się uprawia. Piosenki, które wpadają w ucho zawsze przyciągają publiczność i to nie ma znaczenia w jakim kraju są promowane.
Jakiś czas temu pojawiłaś się w polskim konkursie organizowanym przez Empik. Od razu zaczarowałaś swoim głosem jury, bo twoje nagranie przykuło uwagę wśród tysiąca konkurentów. To trochę magiczne… Jak myślisz co masz Ty, a czego może brakować innym?
Trudno odpowiedzieć na to pytanie. Może chodzi o poczucie humoru…?
Masz już dawno za sobą debiutanckie wydania płyty ''As I Am''. Opowiedz jak do tego doszło, jak długo nad nią pracowałaś ? I kiedy planujesz następne?
Pewnie jak większość muzyków wydających debiutancką płytę pisałam piosenki przez kilka lat. Były w mojej głowie, przewalały się po szufladach, walizkach. Któregoś dnia kupiłam gitarę i poskładałam je w całość, dodałam melodię. Ożyły. Kolejne piosenki muszą się jeszcze trochę "poprzewalać" ;).
[mom_video type="youtube" id="eo8J3gW8N2E" width="822″]
[divide]
Jak na swój wiek, osiągnęłaś wiele sukcesów muzycznych… Które z nich są dla Ciebie tymi najbardziej cennymi?
Każdy sukces jest cenny i znaczy wiele. Jednak bez przesady, nie było ich aż tak wiele. Myślę, że koncert w Radiowej Trójce był pięknym wydarzeniem. Słuchałam tego radia od czasów szkoły i po latach spotkać Tych Ludzi na żywo, porozmawiać z Markiem Niedźwieckim, być na scenie w studiu im. Agnieszki Osieckiej to jest ogromne przeżycie i sentymentalna podróż w czasie.
Za pewne jako młoda wokalistka masz jakieś autorytety muzyczne… Czy z kimś się utożsamiasz? Na kimś wzorujesz? Kto jest twoim idolem ze środowiska muzycznego?
Jestem otoczona muzyką niemalże zawsze. Uwielbiam słuchać, podglądać. Wiele inspiracji wnoszą do mojej twórczości artyści folkowi, ale nie tylko. Każdy rodzaj muzyki jest dla mnie przystankiem. Lubię się zastanawiać co autor miał na myśli, jakie instumenty wybrał, ile w tym prawdy, ile dla niego, a ile dla nas… Laura Marling, Paolo Nutini, Tom Waits, Peggy Sue, Leonard Cohen, Tim Buckley, Elbow i tak dalej, i tak dalej…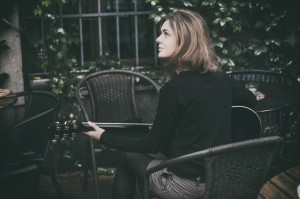 Jakie są twoje marzenia, plany życiowe? Czego byś chciała dokonać?
Chciałabym znaleźć miejsce na świecie, które nazwę domem. Może być bez ścian, ale musi mieć duszę. Marzy mi się spokój. Myśl, że jest dobrze, że nikogo nie krzywdzę, że mam dla kogo ugotować zupę.
Muzyka to bez wątpienia twoja pasja. Jednak jest to czasochłonne zajęcie. Czy masz czas na inne przyjemności, hobby? Czym jeszcze się na co dzień zajmujesz?
Muzyka to bardzo zachłanna i egoistyczna kreatura. Daje wiele, ale też wiele zabiera. Uwodzi, bawi, dodaje skrzydeł, a gdy tylko uwierzymy, że jesteśmy w stanie unieść się ponad świat materialny z nadzieją, że nas to nie dotyczy, podcina je i spadamy by ocknąć się z papierosem w ogródku. Lubię gotować…
Porozmawiajmy o życiu prywatnym…. Czy męskie grono fanów może jeszcze liczyć na twoje względy czy już ktoś skradł twoje serce?
Bywam bez serca ;).
Jak myślisz, które z twoich cech charakteru miały wpływ na twój sukces? Jaki jest przepis na realizację swoich marzeń?
Upór, to jedna z potrzebnych cech. Jaki jest przepis na realizację swoich marzeń? Ciężka praca i szczęście graniczące z cudem…
Rozmawiała : Katarzyna Bińczyk