Adi Spektor – a tak naprawdę Andrzej – jest kolejnym pozytywnym Polakiem, który udowadnia, że ograniczenia nie istnieją jeśli tylko kochasz to co robisz. Na co dzień mieszka w USA, jest aktorem, ale największy rozgłos uzyskał dzięki swoim produkcjom robionym iPhonem.
Wyjechałeś z Polski wiele lat temu, co się z Tobą działo przez te lata?
Na początku mieszkałem w Izraelu, gdzie skończyłem Hebrew University of Jerusalem na kierunku "Economy and Management". I między innymi pracowałem w Centralnym Biurze Statystycznym w Tel Awiwie. Pod koniec lat dziewięćdziesiątych wyjechałem do Los Angeles, gdzie zaraz po przyjedzie zacząłem studiować aktorstwo w renomowanej szkołach aktorskich (m.in. The Lee Strasberg Theatre & Film Institute) i po jakimś czasie zacząłem swoja karierę aktorską. Później jako producent i reżyser.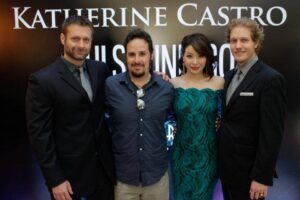 Skąd pomysł na robienie własnych produkcji?
Można powiedzieć, że zawód aktorski to zawód dorywczy. Skończy się jeden film i czeka na castingi na następny. Ja nie lubię czekać, więc wziąłem się za produkcję, bo wtedy wszystko jest pod twoją kontrola i nie trzeba czekać na pozwolenie i na kogoś innego inicjatywę. Produkcja własnych projektów daje mi dużą satysfakcję, gdyż kreuje coś z niczego…
Dlaczego postanowiłeś kręcić filmy telefonem?
Do produkcji filmów telefonem trafiłem przez przypadek. W 2011 zostałem zaproszony żeby zasiąść w Jury prestiżowego festiwalu filmów robionych za pomocą iPhona w Beverly Hills: iPhone Film Festival, gdzie byłem wprost zaskoczony jakością niektórych filmów. Wzbudziło to moje zainteresowanie tym typem produkcji.
Kilka miesięcy po zakończeniu festiwalu, reżyser z Hiszpanii, który wygrał główną nagrodę, wysłał mi e-maila, w którym napisali, że widział moje demo aktorskie i zaproponował współpracę jako producent i główny aktor. I tak narodziła się "Rosyjska Ruletka" ("The Russian Roulette"), moja pierwsza produkcja nakręcona iPhonem.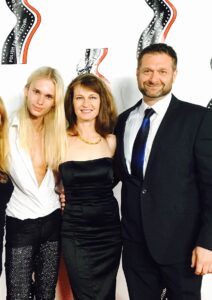 Jakie produkcje masz na swoim koncie?
Trochę dużo ich jest, wiec skupie się na kilku ostatnich.
Jako producent i aktor: "Praca" ("Day Job"), "Rosyjska Ruletka" ("The Russian Roulette")
Jako producent, reżyser i aktor "Jak obrabować dom" ( How to Rob a House), który dostał kilka międzynarodowych nagród na festiwalach i był wyświetlany na całym świecie (Nagroda za najlepszy scenariusz na międzynarodowym festiwalu Cinephone w Barcelonie, drugie miejsce na międzynarodowym festiwalu iPhone Film Festival w Beverly Hills, 4te miejsce na międzynarodowym festiwalu filmów Mobil w San Diego)
http://youtu.be/-wwG-3kuQGQ
Ostatnio nakręciłem film "Cud Chanuki" ( "A Miracle of Hanukkah"), który już zgłosiłem do kilku festiwali i mam nadzieje, ze się widowni spodoba.
https://youtu.be/dG7WYmx22E0
Jako aktor mam za sobą dużo różnych produkcji, więc wymienię tylko ostatnie.
"Odlot" ("Departure") – iPhone film wyświetlany w zeszłym roku na festiwalu filmów w Cannes 2015 i film dzięki, któremu moje zdjęcie znalazło się na blogu Toma Cruisa
"Amerykanka Przemoc" ("American Violence"), który miał premierę pod koniec 2015 w Los Angeles,
"Cranium Intel" – animowany film fantastyczny, którego premiera będzie w maju tego roku
I seriale telewizyjne m.in. Dnie naszego życia ( Days of Our Lives) i Scandal.
Twoje filmy są dość intrygujące, czy jest ktoś na kim się wzorujesz? Czy mają one jakiś określony przekaz?
Moje produkcje sa nietypowe, bo sa oryginalne… Nie wzoruje sie na nikim specyficznym, ale napewno maja na mnie wplyw wszystkie filmy, ktore ogladam oraz moje zycie. W moich filmach, staram sie przekazac moja wizje w jak najbardziej interesujacy sposob, choc nie zawsze zgodnie z przyjetymi zasadami. Mysle ze moje dotychczasowe filmy przekazuja, ze czlowiek jest rowny czlowiekowi i ze wszystko jest mozliwe, chociaz ten przekaz jest w tle i byc moze nie kazdy go dostrzegnie.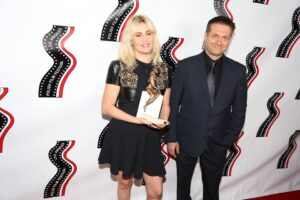 Czy trudno jest wyprodukować film za pomocą telefonu?
Telefony komórkowe są bardzo łatwe w obsłudze, trudność polega na tym, żeby wiedzieć co filmować, co nie rożni się od produkcji "normalną" kamerą. Mam nadzieję, że moje filmy zainspirują początkujących filmowców do akcji. W dzisiejszych czasach każdy może robić filmy.
Ile czasu trwa realizacja takiego projektu?
Na czas realizacji takiego projektu wpływa wiele faktorów: jaki projekt, jak długi będzie film, jak skomplikowany, w ilu miejscach jest kręcony, czy jest kręcony wewnątrz czy na zewnątrz itp.
"Rosyjska Ruletke" kręciliśmy przez 10 dni, "Jak obrabować dom" – dwa dni, "Cud Chanuki" – jeden dzień.
Co, oprócz telefonu, potrzebne jest do tego typu przedsiewzięcia?
Do prostego filmu potrzebny jest tylko telefon. Nawet montaż można zrobić w dzisiejszych czasach na komórce, są do tego dostępne rożne aplikacje m. in. iMovie na iPhonie. Do bardziej zaawansowanych filmów można używać specjalne obiektywy, które dużo nie kosztują oraz radziłbym zainwestować w mikrofon. Wszystko inne jest bardzo podobne do pracy z "normalną" kamerą: jeśli się filmuje wewnątrz to warto zainwestować w odpowiednie oświetlenie itp.
Filmy robione telefonem to dość nowy rodziaj twórczości, ale zapewne otwierający nowe możliwości, szczególnie dla początkujących. Jaką widzisz przyszłość dla mobilnych filmów?
Filmowanie za pomocą telefonu robi się coraz bardziej powszechne. Jeszcze do niedawna, było tylko kilka festiwali filmowych, przeznaczonych wyłącznie do tego rodzaju filmów. Jest tych festiwali coraz więcej na całym świecie. Na przykład mój film "Jak obrabować dom" był wyświetlany na pierwszej edycji Pocket Cinema Film Festival w Pakistanie w zeszłym roku.
Również festiwale które istnieją już od lat otwierają specjalną kategorię dla filmów robionych wyłącznie telefonami.
W wielu przypadkach filmy komórkowe wygrały na ważnych festiwalach zostawiając w tyle inne "konwencjonalne" filmy. Na przykład "Night Fishing" wygrał nagrodę za najlepszy film krótkometrażowy na festiwalu "Berlinale" w Berlinie (iPhone 4), "Tangerine" miał premierę na prestiżowym "Sundance" (iPhone 5s), a "Searching for Sugar Man", który został skończony za pomocą iPhona 4, dostał Oscara.
Coraz więcej dystrybutorów i producentów interesuje się tego rodzaju filmami i moim zdaniem będzie ich coraz więcej.
Jakie są Twoje plany na przyszłość?
Mam zaplanowane projekty na co najmniej dwa lata. Obecnie pracuję nad scenariuszem filmu długometrażowego, którego część być może będzie kręcona w Polsce.
Czy można gdzieś śledzić Twoje poczynania? Gdzie można znaleźć Twoje produkcje?
Jestem na Facebooku, Twiterze, Instagramie oraz mam swój kanał na YouTubie:
YouTube channel:
https://www.youtube.com/AdiSpektorFilms
Website:
http://www.adispektor.com
Facebook:
https://www.facebook.com/AdiSpektorOfficial
Twitter:
https://twitter.com/adispektor
Imdb:
http://www.imdb.com/name/nm2349051/
Instagram:
https://instagram.com/AdiSpektorOfficial/
Adi, dziękujemy serdecznie za poświęcony czas i życzymy dalszych sukcesów!