W dniach od 27/06/2015 do 10/07/2015 w Gateshead Old Town Hall, można podziwiać ekspozycję prac członków grupy Be Creative.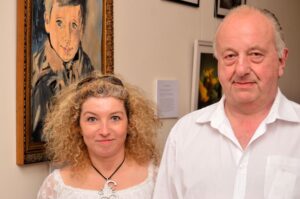 Co to jest Be Creative? Otóż, Be Creative jest to grupa ludzi, wcale już nie mała, skupiająca w swoich szeregach artystów amatorów, jak i profesjonalistów w większości mieszkających poza granicami naszego kraju. W założeniu, miał to być projekt umiejscowiony online, jednak czas postawił przed nami nowe wyzwanie, a mianowicie wyjście do publiczności. Dzięki ogromnej pomocy organizacji Pozytywni.co.uk mamy możliwość pochwalenia się naszymi pracami publicznie.
Kulminacyjny dzień naszej wystawy, połączony z Targami Polskiego Biznesu odbył się 27/06/2015.
Dla wielu z nas był to sądny dzień. Z wielką niecierpliwością czekaliśmy na opinie odwiedzających. Zainteresowanie przeszło nasze najśmielsze oczekiwania. Wielu gości zatrzymywało się przy naszych pracach i pozwalało sobie na chwilę refleksji, niejednokrotnie zadając sobie znienawidzone z czasów szkolnych pytanie: Co autor miał na myśli?
Dla zainteresowanych, którzy nie mieli okazji być z nami w sobotę postaram się przedstawić prace uczestników naszej wystawy.
-Wyjątkowa fotografia portretowa Marcina Orchowskiego w klimacie lat 60-tych I 70-tych.
-Grafika Tymoteusza Sułka oferująca nam wycieczkę w świat mrocznej fantazj.
-Wspaniały styl malarstwa olejnego oraz akwareli Katarzyny Miturskiej.
-Niepowtarzalne rysunki wykonane ołówkiem przez Joannę Kleger-Rudomino.
-Multikolorowe portrety akrylowe z nutką abstrakcji Andrzeja Zagdana.
-Plakaty, kolaże oraz malarstwo akrylowe Edyty Czarneckiej.
-Pełną czaru i magii otografię Małgorzaty Mirosław.
-Doskonałe rysunki Mai Babicz-Raj przedstawiające motoryzację zza żelaznej kurtyny.
Prace naszych artystów będzie można podziwiać do 10/07/2015 w związku z czym serdecznie zapraszam codziennie do Gateshead Old Hall w godzinach od 9.00 do 17.00. Zapraszam również zainteresowanych do naszej grupy na facebooku .
www.facebook.com/groups/BeCreativePL
Gateshead Old Town Hall
West Street
Gateshead
NE8 1HE
Pozdrawiam serdecznie,
założyciel grupy Be Creative
Andrzej Zagdan.