Przeczytajcie jak Paulina Pilarska-Poole od siedmiu lat radzi sobie na ekstremalnych wysokościach. Jak wyznacza sobie kolejne wyzwania i jak zdobywa kolejne uprawnienia wspinaczkowego lidera. Przedstawiamy Wam kolejną pozytywną, która na co dzień, pracuje jako koordynator projektów dla organizacji charytatywnej, mamę cudownego chłopca, a po godzinach spełnia swoją największą pasję, jaką jest wspinaczka.
Wspinaczka to sport, dzięki któremu nabierzesz pewności siebie, przekonasz się, że nie ma celów nie do zdobycia, to dobry sposób na odstresowanie, relaks i dostarczenie sobie wrażeń. Kto wie, może i Ty odnajdziesz w sobie siłę woli i umiejętność pokonywania trudności. Pokonaj swoje leki codzienności i nadaj swojemu życiu dreszczyk emocji.
Jak to się stało, że mieszkasz w Wielkiej Brytanii?
Jako absolwentka wyższej uczelni, z brakiem pomysłu na przyszłość, po zakończonych studiach, przyjechałam na "wakacje" do koleżanki, aby zarobić trochę pieniędzy i zastanowić się, co tu dalej robić… To było 8 lat temu. 
Jak wyglądały Twoje początki, czym się kierowałaś?
Z naiwnością szukałam pracy w swoim zawodzie, ale brak doświadczenia uniemożliwiał mi znalezienie pracy. Pracowałam w różnych miejscach: na recepcji, jako kelnerka, czy jako coffee shop assistant. Poszłam do college'u aby podszkolić język i zdobyć dodatkowe kwalifikacje. Teraz już z przymrużeniem oka wspominam tamten okres, czas ciężkiej, intensywnej pracy, ale tez czas poznawania nowych ludzi, szukania swojego miejsca na ziemi i odkrywania nowych pasji.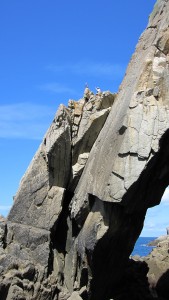 Posiadasz wiele zainteresowań i pasji, skąd pomysł na wspinaczkę? Opowiedz, czym wspinanie jest dla Ciebie? 
Zawsze lubiłam aktywny tryb życia, jazdę na rowerze, podróże, chodzenie po górach. Uwielbiam górskie krajobrazy i te otwarte przestrzenie, kolorystykę, zmieniającą się z każdą porą roku. O wspinaczce dowiedziałam się od znajomych i tak się zaczęło…
Wspinaczka to dla mnie pomysł na spędzanie wolnego czasu, odbicie się od codzienności, od pracy… To połączenie aktywności fizycznej z życiem socjalnym, bo zawsze przy okazji wspinaczki, spotykamy się ze znajomymi. Rozmawiamy o tym co, wydarzyło się ciekawego w naszym życiu. Wspinaczka, to też możliwość poznania pięknych zakątków Anglii z zupełnie innej perspektywy.
Wspinamy się razem z mężem już siedem lat. Ja z przerwą, bo urodził nam się synek. Co roku, organizujemy też wakacje z naszymi znajomymi ze wspinaczki, poznajemy różne nowe miejsca i wyznaczamy sobie kolejne wyzwania. Byliśmy w wielu miejscach Anglii,  Szkocji, Walii, wyspie Lundy, Hiszpanii i  na Majorce.
Moje największe osiągniecie to zdobycie uprawnień wspinaczkowego lidera i osiągniecie formy na poziomie HVS.
Czy mogłabyś, krok po kroku, poradzić rodakom, jak mogą rozpocząć przygodę ze wspinaczką? Każdy może się wspinać? Czy to drogi sport? Poleć najlepsze miejsca.
Wraz z mężem (wtedy jeszcze chłopakiem) zapisaliśmy się na parotygodniowy kurs wspinaczkowy w Eldon Square w Newcastle. Jeśli jesteście zainteresowani wspinaczką, każde większe centrum wspinaczkowe organizuje przynajmniej parę razy do roku tego typu kursy. Podczas ośmiu tygodni nauczyliśmy się, jakiego sprzętu używać, jakie wiązania stosować, poznaliśmy miejsca do wspinaczki i zasady bezpieczeństwa. Poznaliśmy również, ludzi pasjonatów, którzy tak jak my, chcieli kontynuować nowe hobby. Kolejnym krokiem był jednodniowy kurs tzw. outdoor climbing-single pitch i już bardziej zaawansowany multi pitch w Wali. Od tej pory, prawie w każdy ładny weekend, pakowaliśmy samochód i ruszaliśmy na wspinaczkę w Northumberland, Yorkshire albo Lake Dostrict – Newcastle ma to do siebie, że we wszystkie te miejsca, można dojechać w przeciągu dwóch godzin. W czasie niepogody "praktykujemy" w lokalnych centrach wspinaczkowych.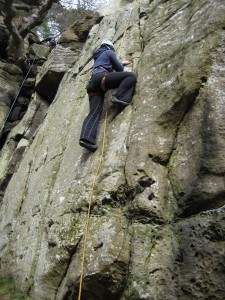 Jeśli lubisz zajęcia na świeżym powietrzu, a do tego jesteś w dobrej kondycji fizycznej i nie boisz się wysokości, jest to sport dla ciebie. Wiadomo, początki są ciężkie, będą bolec nieużywane wcześniej mięśnie, sylwetka nabierze atletycznego wyglądu, opuszki palców będą spuchnięte, a i paznokci raczej nie da się zapuścić (śmiech,) ale wrażenia i satysfakcja z osiągniecia kolejnych poziomów wspinaczkowych i zobaczenia nowych miejsc, wszystko zrekompensuje. To właśnie najbardziej lubię we wspinaczce, że jesteśmy w stanie zaszyć się i zobaczyć miejsca niedostępne zwykłym turystom, czy ludziom preferującym piesze wycieczki. 
Północna Anglia ma wiele świetnych miejsc wspinaczkowych, moje ulubione Bowden Doors, ze szczytu można zobaczyć Holly Island i zamek Bamburgh, oraz Peel Crag,u podnóża muru Hadriana, te dwa w Northumberland. Polecam również Stanage w Yorkshire i wspinaczkę w dolinie Great Langdale w Lake District.
Wspinaczka nie jest sportem drogim, jednakże zakupienie całego sprzętu: butów, linek, wiązań, zaczepów będzie trochę kosztować, Warto też zaopatrzyć się w dobrą odzież (przeciw deszczowa, przeciw wiatrową itp.)
Na pewno, zachęcam każdego do spróbowania wspinaczki. Na początek radzę zacząć od centrów wspinaczkowych, bez kupowania drogiego sprzętu i konieczności zmierzenia się z własnym lekiem. Dopiero po sesji "na ściance" można już samemu ocenić, czy nadajesz się do tego sportu. Na stronie BMC przeczytałam ostatnio informacje, że obecnie w Wielkiej Brytanii, jest już ponad 400 ścianek wspinaczkowych i corocznie powstają nowe. Jest to wiec sport, który cieszy się wielka popularnością. Warto spróbować!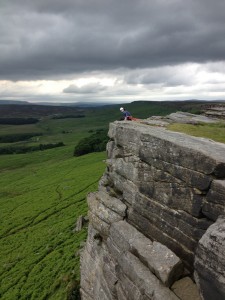 Jak uważasz, oddanie się hobby, czy pasji pomaga w tęsknocie za ojczyzną? 
Na pewno, poprzez hobby poznajesz nowych ludzi i koncentrujesz się na nowych rzeczach i na tym, co możesz osiągnąć, a nie rozpamiętujesz, co by było gdyby…
Uważasz się za kobietę spełnioną i szczęśliwą? Czym szczęście jest dla Ciebie?
Tak, dla mnie szczęście to wspólny relaks z rodziną, satysfakcja zawodowa, ale również umiejętność cieszenia się z rzeczy małych…
Jakie masz plany na przyszłość?
Hmmm, więcej miejsc do zobaczenia, więcej miejsc do odkrywania, tym razem już w trojkę, chciałabym zarazić wspinaczkowym hobby naszego synka.
Życzymy dalszych sukcesów wspinaczkowych i zdobywania coraz to wyższych szczytów. Pozdrawiamy. Pozytywni!
Barbara Larysz