Kolejne kursy samoobrony organizowane w języku polskim – z polskim instruktorem światowej klasy – już wkrótce w Newcastle i Edynburgu;
Jężeli masz za daleko do Edynburga lub Newcastle – daj nam znać pisząc na: eventy@pozytywni.co.uk; Może uda nam się zorganizować  szkolenie w Twojej okolicy!
Jeżeli chcesz dowiedzieć się więcej na powyższy temat, kliknij TUTAJ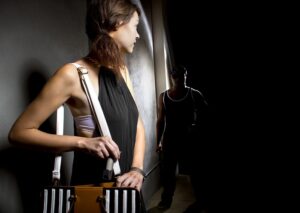 Gwałty, napady, wyrwane torebki zdarzają się wszędzie, również w naszym mieście, na ulicach którymi chodzimy. Coraz częściej to kobiety są ofiarami napaści. Można pokusić się o stwierdzenie, że napastnicy upodobali je sobie jako ofiary agresji, gdyż nie stawiają one dużego oporu. W ciemnej uliczce, w konfrontacji z silniejszym i agresywnym mężczyzną, kobiety często stoją na straconej pozycji ponieważ nie wiedzą jak się obronić.
Straty materialne, niczym nie mogą się równać urazom fizycznym i psychicznym powstałym w wyniku gwałtu czy innego ataku agresji. Wśród niektórych krążą opinie, że kobiety mogą się ich ustrzec poprzez unikanie niepewnych miejsc lub noszenie mniej wyzywających ubiorów. Niestety to nie takie proste. Gwałty zdarzają się bez względu na porę dnia w każdym przedziale wiekowym i w każdej grupie społecznej. Wszystkie statystyki i badania świadczą, że nie ma takiego czegoś jak "typowy gwałt" czy "typowa ofiara gwałtu". Tego po prostu nie da się przewidzieć.
Coraz częściej słyszymy, że została napadnięta bezbronna kobieta. Dlaczego tak się właśnie dzieje? Większość ludzi uważa kobiety za słabą płeć, za łatwy cel. Opór stawiany przez nie jest mniejszy i nie będą umiały się obronić przed agresywnym napastnikiem. Niestety większość kobiet także tak uważa, a jest to nie prawda. Przy odpowiednim przygotowaniu psychicznym i fizycznym, takim jak, na przykład na treningach Krav Maga, kobiety są w stanie radykalnie zmniejszyć ryzyko napadu, utraty zdrowia lub życia podczas niespodziewanego ataku w różnego rodzaju sytuacjach.
Myślisz, że nie masz siły do obrony samej siebie, że tylko mężczyzna może obrobić Ciebie i siebie?? Nic bardziej mylnego. Przyszły takie czasy, że trzeba liczyć tylko na siebie. Nie zawsze będzie ktoś, kto będzie mógł stanąć w Twojej obronie.
Krav Maga nie tylko pokazuje jak radzić sobie w sytuacjach zagrożenia życia i zdrowia, ale także daje kobietom poczucie bezpieczeństwa, pozwala nabrać pewności siebie, podnosi samoocenę, sprawność fizyczną, jak również pozwala na odreagowanie stresu poprzez aktywny wysiłek i kontrolowaną agresję.
W Krav Maga możemy bronić się tak naprawdę wszystkim, co mamy w danym momencie pod ręką, mogą to być np., klucze od samochodu, od domu, torebka, parasolka, cokolwiek, co pozwoli nam na obezwładnienie napastnika i czas na ucieczkę.
Zawsze i wszędzie, MASZ PRAWO BYĆ SOBĄ !!!!!
Nie ważne gdzie mieszkasz, czym się zajmujesz, w co wierzysz.