Myśleliście kiedyś o tym, żeby nauczyć się strzelać? A może potraficie już posługiwać się bronią palną i chcielibyście rozszerzyć swoje umiejętności? Nie wiedzieliście jednak jak to zrobić? Z odpowiedzią przychodzi prowadzona w Newcastle upon Tyne przez Polaków firma Global Security Centre, która co prawda swoje szkolenia prowadzi w Polsce – ale przeznaczone one są głównie dla mieszkańców Wielkiej Brytanii! Okazuje się, że ich szkolenia NIE są skierowane wyłącznie do osób mających na codzień kontakt z bronią!
[gap height="2″]
Udało nam się porozmawiać z właścicielami Global Security Centre i zdecydowaliśmy, że również i my dołączymy do ich szkoleń – więc kolejny wyjazd do Polski będzie zupełnie inny niż wszystkie!
[gap height="20″]

Dlaczego Brytyjczycy uczą się strzelać w Polsce?
[gap height="10″]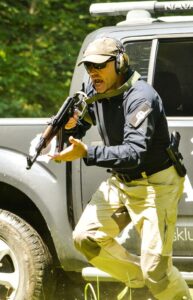 W dzisiejszych czasach – pośród wciąż rosnącego zagrożenia terroryzmem coraz więcej osób poszukuje możliwości zdobywania wiedzy i umiejętności w zakresie bezpieczeństwa. Brytyjczycy nie mają jednak szans na naukę ani ćwiczenia z obsługi broni palnej-krótkiej oraz broni automatycznej w Wielkiej Brytanii. Prawo brytyjskie jest w tej kwesti bardzo restrykcyjne i o ile stosunkowo łatwo jest uzyskać pozwolenie na tzw. Shotgun, o tyle praktycznie niemożliwym jest uzyskanie pozwolenia na broń krótką i automatyczną. Nie ma również strzelnic na których można byłoby nauczyć się strzelać z takiej broni, dlatego mieszkańcy Wysp tych umiejętności muszą nabierać za granicą. Nasz ośrodek cieszy się ogromną popularnością ze względu na konkurencyjne ceny oraz bardzo praktyczną strzelnicę dającą nam ogromne możliwości prowadzenia ćwiczeń w różnych wariantach taktycznych; ale przede wszystkim – wyróżnia nas imponujące doświadczenie i kompetencje instruktorów prowadzących zajęcia! Naszym wielkim atutem jest również bardzo wysoki standard zakwaterowania naszych kursantów.
[gap height="10″]
Warto zaznaczyć, że nie tylko ludzie z branży ochrony biorą udział w zajęciach. Bardzo częstymi gośćmi w naszym ośrodku są osoby, dla których strzelanie taktyczne to po prostu hobby; oraz Ci, którzy chcą zrobić coś innego niż robią na codzień. Niewątpliwie – kurs strzelania taktycznego dostarcza sporo adrenaliny i silnych emocji, a posiadanie wiedzy i umiejętności, które nie wszyscy mają odwagę posiąść niesłychanie podnosi pewność siebie.
Bardzo często organizujemy również  szkolenia w ramach wyjazdów firmowych – podczas których prowadzone są zajęcia z np. team building. Trzeba przyznać, że budowanie i wzmacnianie zespołu podczas strzelania taktycznego daje efekty jak żadne inne szkolenie.
[gap height="20″]
Czy udział w szkoleniach biorą również Polacy?
[gap height="10″]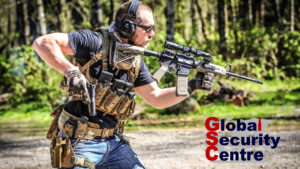 Oczywiście! Nawet bardzo często prowadzimy zamknięte szkolenia dla Polaków, którzy przyjeżdżają z Wielkiej Brytanii (i innych krajów UE) w zorganizowanych grupach. Są to grupy ludzi pracujących razem, ludzie trenujący wspólnie sporty walki, ale również grupy przyjaciół traktujących szkolenie bardziej jako rekreację – taki męski wypad! Choć zdarzają się też grupy kobiece – trzeba przyznać, że 'babski wypad' na kurs strzelania taktycznego jest czymś zupełnie nietuzinkowym!
Polacy mogą zazwyczaj liczyć u nas na bardzo atrakcyjne zniżki!
[gap height="5″]
W jakim języku odbywają się zajęcia?
[gap height="5″]
Większość szkoleń prowadzona jest w języku angielskim i polskim, jednak możemy również poprowadzić szkolenia w języku niemieckim, włoskim, rosyjskim i ukraińskim.
[gap height="20″]
Kto prowadzi zajęcia?
[gap height="10″]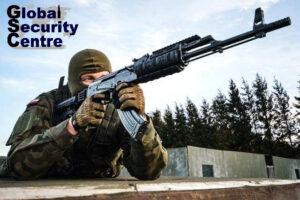 Nasi instruktorzy to wyłącznie osoby z ogromnnym doświadczeniem w kontakcie z bronią. Byli kontraktorzy wojskowi, członkowie jednostek specjalnych, leaderzy zespołów ochrony VIPów z najróżniejszych części świata. To ludzie, którzy przekazują kursantom konkretną i sprawdzoną wiedzę! To ludzie, którzy znają się na rzeczy – najlepsi w tym co robią!
[gap height="20″]
Czego można nauczyć się podczas szkoleń?
[gap height="10″]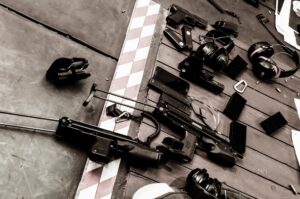 Szkolimy ludzi mających już doświadczenie w użyciu broni jak i zupełnych nowicjuszy, jednak priorytetem podczas wszystkich szkoleń jest nauka używania broni palnej w sposób bezpieczny! Nasi kursanci mają kontakt z prawdziwą bronią oraz prawdziwą – ostrą amunicją! Nie może zatem być miejsca na błędy.
Wartym zaznaczenia jest również, że ćwiczenia przez nas prowadzone NIE polegają na zwykłym strzelaniu do celu. Kursy strzelania taktycznego już na poziomie podstawowym są pełne bardzo dynamicznych ćwiczeń (np. Szybkie dobycie broni i przeładowanie; strzelanie percepcyjne – czyli strzelanie bez użycia przyrządów celowniczych; szybka zmiana kierunku prowadzenia ognia; nauka szybkiego dobywania broni spod marynarki lub koszuli; strzelanie indexowe itd.) .
Każdy z oferowanych przez nas kursów zawiera również część teoretyczną – podczas której kursanci poznają zasady bezpieczeństwa, podstawowe zasady działania broni palnej i różnych rodzajów amunicji itd. Wszystkie zajęcia teoretyczne prowadzone są w naszej w pełni wyposażonej Sali konferencyjnej.
[gap height="20″]
Kto może zgłosić się na Wasze szkolenie?
[gap height="10″]
Praktycznie każdy, kto chce posiąść lub rozwinąć umiejętności posługiwania się bronią palną. Jak już mówiliśmy – szkolimy zarówno nowicjuszy, jak i doświadczone osoby. Często dołączają do nas ludzie, którzy u nas broń palną biorą do ręki po raz pierwszy w życiu. Jedynym warunkiem jest niekaralność!
Najbliższe szkolenie prowadzili będziemy od 5 do 9 Listopada; będzie to TP1-2/TC1-2 na które serdecznie zapraszamy! Wszelkie szczegóły dotyczące szkolenia można uzyskać kontaktując się z nami – wysyłając e-mail na: office@gscentre.eu . Zapraszamy również do odwiedzania naszej strony: www.gscentre.eu
[gap height="20″]
Dziękuję za rozmowę! Życzymy dalszych sukcesów i rozwoju Global Training Centre!
Agnieszka Gruszczyńska