Kubo, zacznijmy od definicji 'Krav Maga'. Większość z nas słyszała to określenie, jednak nie wszyscy wiedzą czym Krav Maga w rzeczywistości jest. Czym Krav Maga różni się od innych systemów walki wręcz?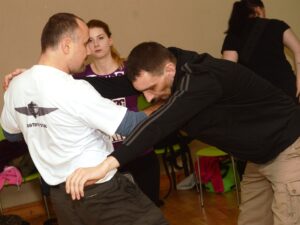 Krav Maga, jest izraelskim-wojskowym systemem walki wręcz i samoobrony, który w latach 90-tych trafił na rynek cywilny. Krav Maga polega na jak najszybszym wyeliminowaniu agresora bądź agresorów z walki i znalezieniu bezpiecznego miejsca. I tutaj, chciałbym podkreślić słowo jaknajszybsze. Filozofia Krav Maga, szczególnie w życiu cywilnym, nie polega na toczeniu długich walk, tylko poprzez szybki kontratak znalezienie sposobności na ucieczkę z miejsca zagrożenia. Krav Maga nie uczy bardzo wyrafinowanych technik samoobrony, ładnie wyglądających, jak na filmach z klasyki gatunku Kung-fu. Krav Maga uczy, jak wykorzystać słabe punkty agresora (fizyczne). Krav Maga uczy, jak wykorzystać sferę psychiczną do walki, jak użyć i sprawić że pierwotnie niebezpieczne środowisko, w którym się znaleźliśmy, stanie się naszym sprzymierzeńcem. Krav Maga w bardzo naukowy sposób analizuje mechanikę ruchów człowieka, schemat wyprowadzania ciosów i innych tego typu rzeczy, aby jak najlepiej dopasować je do obrony przeciwko każdemu agresorowi, bez względu na wiek, wzrost, siłę itp. Krav Maga to również nauka procedur bezpieczeństwa, czyli jak nie wpaść w kłopoty na ulicy.
Kubo, jesteś właścicielem Europejskiego Biura Bezpieczeństwa, oraz współwłaścicielem 1501 Training Ltd., powiedz nam więcej o tych firmach i Twoim doświadczeniu.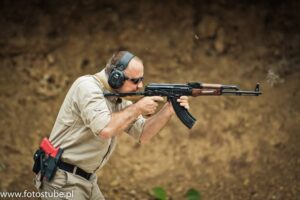 Europejskie Biuro Bezpieczeństwa powstało w tym roku poprzez reorganizację mojej poprzedniej firmy Sayret Security Consulting. Głównym profilem działalności firmy, jest szkolenie wyspecjalizowanych grup agentów ochrony osobistej, kursów obsługi broni palnej, samoobrony przeznaczonej dla osób cywilnych , wojska, policji i agentów CP. Swoje doświadczenie zdobywałem pracując przez 10 lat jako Close Protection Operative w Polsce i poza granicami kraju, miedzy innymi w Kolumbii, Brazylii, Malezji, Hiszpanii, Francji i innych krajach, których z pewnych względów nie chcę wymieniać. Ostatnie kilka lat współpracowałem, jako instruktor z European Security Academy, gdzie uczestniczyłem w rządowych projektach szkoleniowych miedzy innymi dla Special Security Force of Bangladesh (Biuro Ochrony Rządu państwa Bangladesz) i zespołu ochrony Sułtana Omanu. W samym tylko 2014 roku, wyszkoliłem około 400 agentów ochrony osobistej z całego świata.
1501 Training Ltd. powstało na potrzeby rynku brytyjskiego i działa jako firma-siostra Europejskiego Biura Bezpieczeństwa.
Prowadziłeś swoje kursy samoobrony dla kobiet, niemalże na całym świecie, opowiedz proszę o skuteczności i metodyce swoich kursów.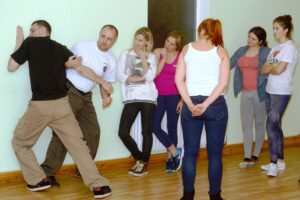 Z informacji jakie dochodzą do mnie od moich kursantów i kursantek wnioskuję, że moje kursy się przydają nie tylko do stawienia czoła agresorowi, bo takich sytuacji, oby było jak najmniej, ale przede wszystkim moje kursy przyczyniają się do podniesienia poczucia bezpieczeństwa i pewności siebie. Pokazuję kobietom, że nie są bezbronne i bezradne podczas agresji i zagrożenia życia, bądź zdrowia. Zmieniam ich sposób myślenia i w zasadzie myślę, że to jest największy sukces mój i kursów, które prowadzę.
[gap height="10″]
W wywiadzie z Marleną Marią Weber, powiedziałeś, że można wytrenować kontrolę swoich ruchów, po jakim czasie trenowania możemy być pewni, że zareagujemy tak, jak nas tego uczono?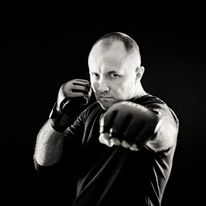 Kontrola ruchów podczas walki musi się zacząć od nauki kontrolowania emocji. Wszystko zaczyna się w naszej sferze psychicznej. W Izraelu został opracowany specjalny model treningu HSRT (High Stress Reaction Training), który polega na tworzeniu podczas treningu sytuacji stresogennych i niekomfortowego środowiska treningowego tak, aby od pierwszych godzin treningu uczyć się łączyć technikę fizyczną ze sferą psychiczną, która jest kluczowym elementem podczas walki. Jeden z moich mentorów i trenerów dr Andrzej Bryl, twórca bojowego sytemu walki BAS-3 powiedział kiedyś że w walce najważniejsza jest determinacja. I to ona decyduje, czy walkę wygramy, czy przegramy.
Co to jest pamięć mięśniowa i kiedy zadziała?
To potoczna nazwa nieświadomego rodzaju pamięci, który pozwala wykonywać czynności motoryczne w sposób automatyczny, czy spontaniczny, bez użycia świadomości i bez zastanawiania się nad samym procesem ruchu. Mówiąc prościej wykonujemy ruch zanim o nim pomyślimy. Jest to rodzaj odruchu, ale usystematyzowany.
Jakie masz plany, nad jakimi projektami pracujesz, co chciałbyć jeszcze zrealizować?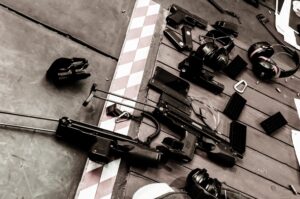 Planów mam bardzo dużo, ale to na chwile obecną jest moja słodka tajemnica.
Jeżeli, którykolwiek z czytelników jest zainteresowany prowadzonymi przez nas kursami (w zakresie Close Protection, tactical shooting, Krav Maga) może się z nami skontaktować wysyłając email na adres: office@1501training.co.uk
Kubo, dziękuję bardzo za wywiad i do zobaczenia niedługo na kolejnym kursie samoobrony dla kobiet w Newcastle upon Tyne. 
Barbara Larysz.